Nonprofit Impact Teams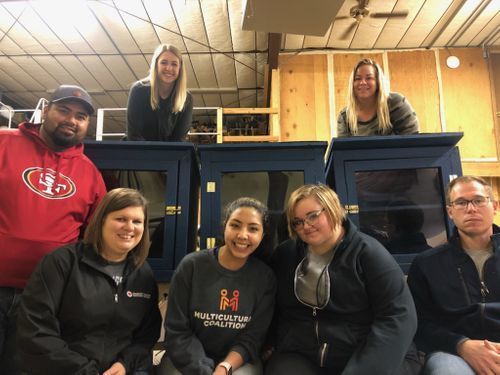 Past Projects
Class 10. 1995 Paint-a-Thon
Class 11. Facilitated two projects –Completely organized the Vision Fair for the Heartland Vision Project as a community needs assessment opportunity. Multiple booths are decorated and a carnival atmosphere was created to encourage residents to come out and cast their votes for the future. The second class project was a gift of funds and time to sponsor a teen dance at Super Bowl for the Mayor's Task Force for Youth.
Class 12. Facilitated the Community Partnership Project by conducting a phone survey. The phone survey gathered data which was compiled into a report to identify, evaluate, analyze and plan for human needs.
Class 13. Held a food drive to benefit the Salvation Army Food Pantry. Class members spent a Saturday collecting food items at each of the grocery stores in Grand Island
Class 14. Helped with the Chatauqua tent raising & additional tasks throughout the event 
Class 15. Painted the Homeless Shelter
Class 16. Co-sponsored the Mayoral Forum & assisted Salvation Army with their holiday food boxes & toy donations.
Class 17. Worked on Stolley Park Community Playground
Class 18. Howard Eakes Community Trash Bash
Class 19. Built playground equipment at Shoemaker Park
Class 20. Habitat for Humanity Build
Class 21. Scraped and painted the Grand Theater
Class 22. Hope Harbor's adopt-a-family program, wrapped presents, and arranged for a photographer to take family photos
Class 23. Adopt a Park Community Service Project
Class 24. Crisis Center (painting & projects)
Class 25. Helping Hoops- created a one day basketball tournament for Special Olympics
Class 26. Trails Alive Project – Helped add 6 signs to the Hike & Bike Trails w/information about trails, safety guidelines & distance markers.
Class 27. YWCA – develop play area
Class 28. Habitat for Humanity Build
Class 29. Refresh Kids Kingdom
Class 30. Clean up of Stuhr and painting at YWCA
Class 31. Downtown clean up
Class 32. Combat Human Trafficking – cataloged all hotel rooms in GI and passed out HOPE stickers to businesses
Class 33. Child Abuse Prevention awareness 
Class 34. Renovate the Recreation Room for Big Brothers Big Sisters
Class 35. Meet Grand Island, Kindness Rocks, Little Free Food Pantry Project, CASA Online Training for Youth
** Please contact the LT office if this list requires any edits**