Leadership Tomorrow
Leadership Tomorrow enhances community leadership by providing an educational program for individuals with diverse backgrounds and experiences who demonstrate leadership ability and commitment to the community.
Each of the nine monthly sessions, from September to May, is dedicated to a specific aspect, including:
Understanding your thinking and behavioral preferences
Discovering Our Community/Choosing to Lead
Economic Development/Fueling the Economic Engine
Community Needs/Volunteer Leadership/Media Relations
Community Investment/Diversity
State Government
Crime & the Criminal Justice System
City/County Government
Preparing Today's Workforce
MISSION STATEMENT
Leadership Tomorrow identifies and educates proven and potential leaders who are committed to developing and utilizing positive leadership skills to improve our community.
Know someone that should be in Leadership Tomorrow? Nominate them!

APPLICATION FORM

Interested in being a part of the next LT class? Applications are open in January and will be due in March 2022.

Applicants for the Leadership Tomorrow program must have the support and commitment of their employer. This completed commitment is required for the applicant to be considered.

Partial scholarships are available. Please submit this scholarship application with your application to the program.

Roster for Class 35. To see rosters from previous classes visit the alumni database on the Alumni Directory page.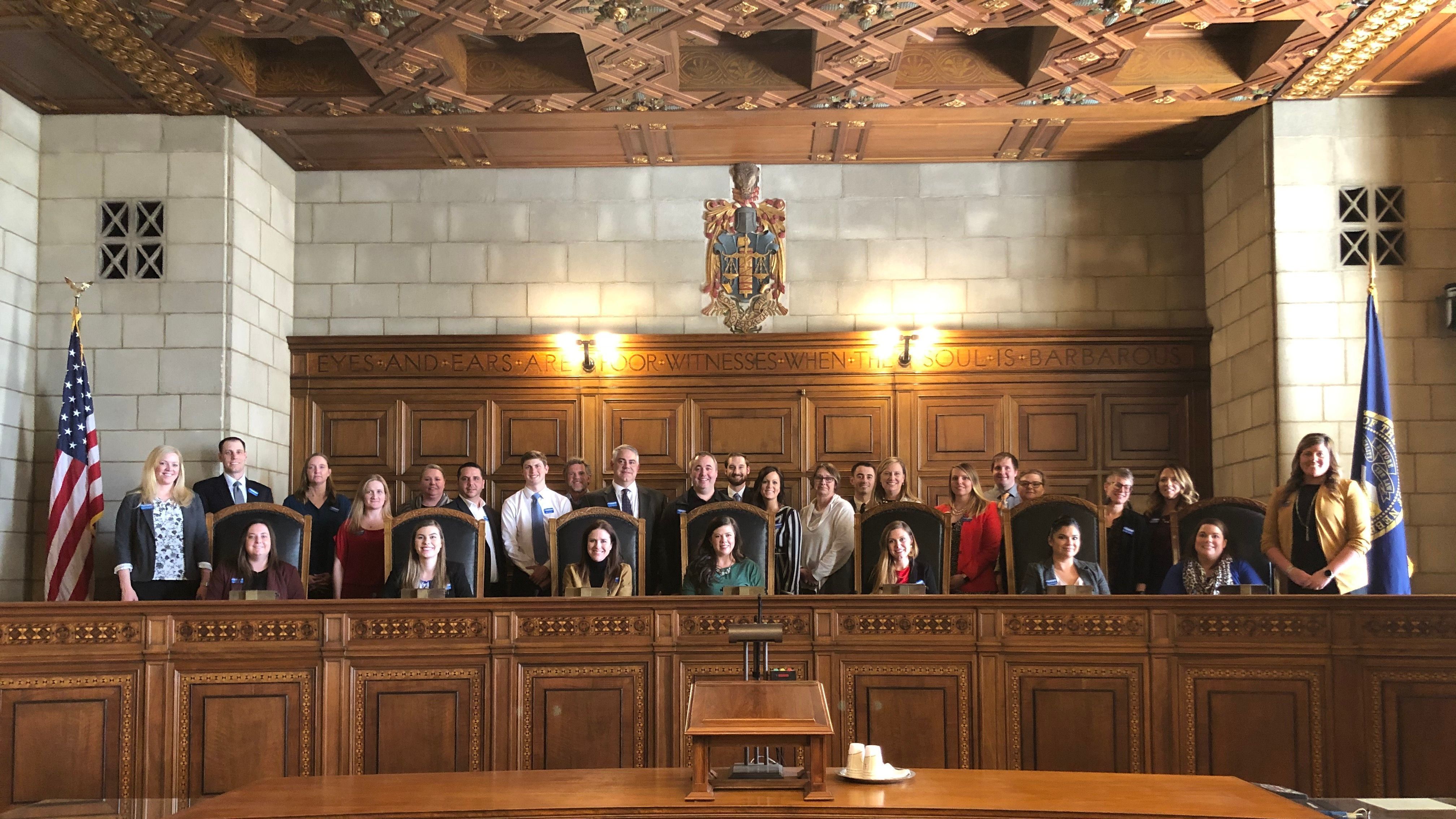 During these day-long sessions, participants have the opportunity to visit facilities across the community, to meet and interact with community and state leaders, to study community issues, and to decide how they will work to make the area a better place to live.
A key objective of Leadership Tomorrow is to provide a foundation for class members to identify their goals and to prepare and motivate them to help shape the future of Hall County.
In addition, class members have the opportunity to interact more informally with community leaders during small group focus luncheons.
The nine-month program provides training for leaders in the following areas:
Team building
Communication
Facilitation
Time Management
Collaboration
Visioning
Personal mission and goal setting
Boardsmanship/Trusteeship
Parliamentary procedure
Running a meeting
Conflict management
Consensus building
Experiential learning cycle
Servant leadership
Fund raising
Customer service
Media relations
Networking
Leadership styles
Program Details
Tuition for the program is $900 per participant. Partial scholarships are available to those who show need. Please submit your scholarship application with your application to the program. Need for scholarship is not a factor in class selection. All application information is kept confidential and selection to the program is made "blindly" meaning those who review applications do not know the name or any demographic information about the application they are reviewing.
Requirements to graduate from the program include:
Attending nine full-day sessions September through May (participants who miss more than two session will be withdrawn from the program)

Sessions are generally the second Thursday of the month

Attend a minimum of nine Focus Meetings
Participate in a class project
Participate in a class fundraising project
Upon completion of the program, participants are expected to seek roles of responsibility within their professional career and within Hall County for the betterment of the community.
There is no age requirement for this program.