2019 Lucky Draw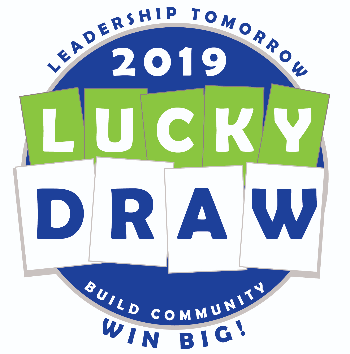 You Could Win...
Grand Prize:

$8,000 Cash
 &

 Over $2,000 in prizes

(see listed below)
1st Prize:

$500 Cash
2nd Prize:

$250 Cash
Tickets on sale now! 
1 for $20 | 3 for $50 | 7 for $100 
Contact the Leadership Tomorrow office for sales locations, 308-675-2000.
LT Board Members, Current Class Members, and Alumni are selling. 
Tickets also available at the Grand Island Independent. 
2019 Prizes
$500 Rejuvenation Salon Gift Certificate

1 Year Unlimited Wash Car Care Membership Plan

($450 value) from Kermit's Super Wash

Zoom Teeth Whitening

($412 value) from Island View Dental

$400 Pump & Pantry Gift Card

$250 Hy-Vee Gift Card

$50 Hamilton Communication Gift Card
The Drawing…
Join us on August 8th as we draw the winning ticket for $10,000! Free beer and music from 4:30 p.m. to 6:30 p.m. at Burlington Station, 603 N Plum Street, Grand Island.
Proceeds from the Lucky Draw benefit the Leadership Tomorrow and Youth Leadership Tomorrow programs. Leadership Tomorrow is a 501c3 nonprofit whose mission is to identify and educate proven and potential leaders who are committed to developing and utilizing positive leadership skills to improve our community.  
---
Thank you to our sponsors!
Gold Sponsors
Dr. Hudnall
Silver Sponsors
Paul Hoos
Bronze Sponsors
---
Official Rules and Regulations of the LT Lucky Draw
Presented by Hall County Leadership Unlimited, Inc. a 501(c)3 Corporation (Non Profit Charity) #35-8775648.
 Drawing will take place at the Burlington Station at 6:00 p.m. on Thursday, August 8, 2019.

The person's name that appears on the entry ticket corresponding to the first ticket drawn will be awarded prizes progressing from 2nd place prize, to 1st place, to Grand Prize being awarded. A list of prizes can be obtained by sending a written request and a self-addressed stamped return envelope to: Hall County Leadership Unlimited, Inc. 3180 West US Highway 34, Grand Island, NE 68801

.

Presenter reserves the right, at its sole option, to substitute prizes of comparable value.

 The combined retail value of all prizes will be over $10,000.

 The address portion of the lottery ticket must be completely filled out and delivered to Presenter or an authorized representative of Presenter or mailed to the Presenter at the address set forth in paragraph (2) above and actually received by Presenter prior to the drawing for a ticket to be eligible to win any prize. No other tickets are eligible to win any prize. Entrants assume the risk of non-delivery of any entries to Presenter or an authorized representative of the Presenter. Entries must be received by 6:00 p.m. on August 8, 2019 or until maximum number of tickets have been sold.

 Cost is $20 per ticket to benefit Leadership Tomorrow and Youth Leadership Tomorrow a non-profit 501(c)3 organization.

 Winners will be announced at the Burlington Station at 6:00 p.m. on Thursday, August 8, 2019. Entrants will also be notified by United States mail or by telephone if not present at drawing. Entrants need not be present to win. All prizes will be awarded.

Executive Committee and Executive Director of Hall County Leadership Unlimited, Inc, LT Lucky Draw Committee Chairs and their families are not eligible to win.

 No cash equivalent prizes will be provided in lieu of the designated prizes. Any taxes and similar fees are the sole responsibility of the winner.

By entering, entrants release Presenter and its officers, directors and staff and other related entities from any and all liability with respect to prizes.

 By entering, winner consents to the promotional use of their names and likenesses without additional compensation.

Chances of winning depend on the total number of qualified entries.

This event is subject to all federal, state and local laws and regulations and is void where prohibited by law.

All decisions and interpretations of rules and regulations will be made by Presenter and its judgement is final.

 A copy of these rules and regulations is available from the Presenter at the address listed in rule two (2) above.